"Johnny Depp was an unknown, basically. I thought he had the face of the star. He was one of the soldiers," recalled Oliver Stone about the actor, one of many he brought to the Philippines to shoot Platoon.
In his newly released memoir, Chasing the Light, the Oscar and Golden Globe winning director pens an intimate account of his life and career so far, from his childhood, fighting in the Vietnam War, to making Platoon, including the tense preparations impacted by the People Power Revolution, and ending with the film winning the Academy best picture prize.
I talked via video call with the filmmaker, who has grown fond of the Philippines since he shot Platoon and Born on the Fourth of July, about his engrossing biography which is subtitled, Writing, Directing, and Surviving Platoon, Midnight Express, Scarface, Salvador, and the Movie Game.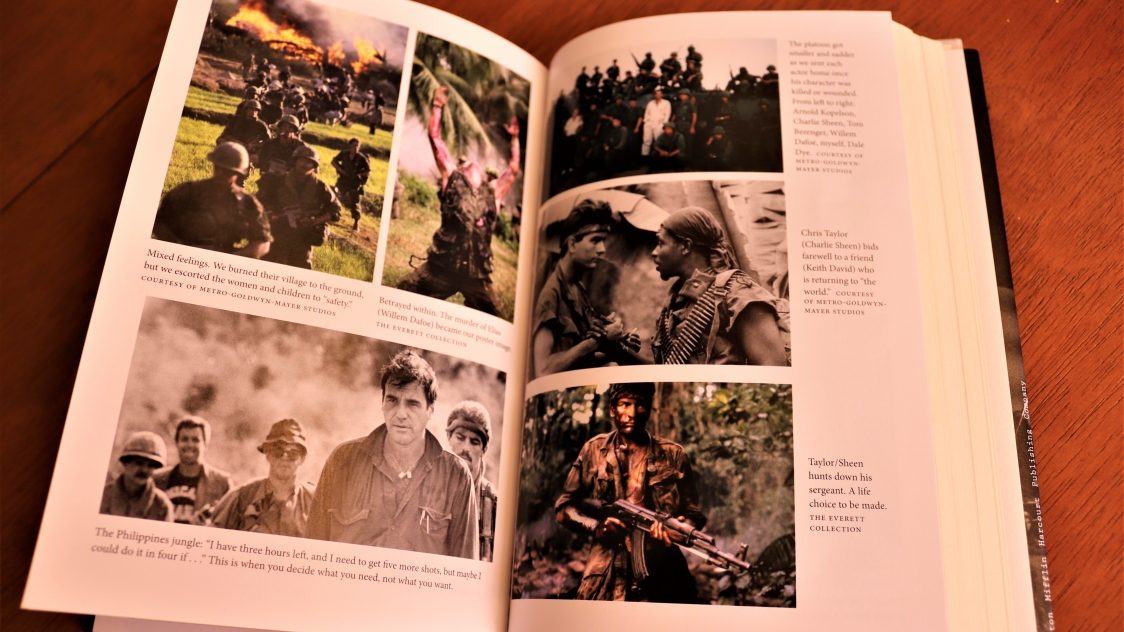 Oliver Stone devotes several pages, including photos, to the making of "Platoon" in the Philippines. Photo by Ruben V. Nepales
"I tried to get young people to play the roles from all over the country (US)," continued Oliver, who was awarded the Bronze Star for valor in Vietnam, about casting Johnny and other actors in his first of four Vietnam War-themed films.
"I tried to look for people from the South because there were a lot of infantry soldiers from the South, a lot of black soldiers and from inner Chicago.
"But most of the troops came from small towns. So they were assembled from everywhere – white, black, Asian. The training was amazing because we broke all the rules of the Screen Actors Guild. They said you need a 12-hour turnaround. We couldn't do that because I really wanted as much reality as the actors could go through. As I remember when I was in the infantry, I was tired and nervous and I didn't sleep very well for almost 15 months.
"So, I wanted to get that feeling of irritation and hardness and as realistic as I remembered it. I got Dale Dye to help me. Dale had been an ex-Marine, not infantry. He ran the actors' military training school with the Philippine Army. He helped us in the rainforest there. I forgot the name of it (Laguna), not far from Manila.
"We kept the actors up as much as we could. We assigned them sentry duties. They would be on two to three hours and then rotate. So they were pretty tired, irritated and angry with me and Dale. But Dale whipped them into shape. He was on them night and day."
In the book, the controversial filmmaker revealed that some of the actors' parents were worried about their "baby boys" going to Manila as the People Power Revolution intensified.
"A lot of the actors' parents did have problems but not once we started," Oliver admitted in our chat. "They had the problems before because the (People Power) Revolution scared them. Their baby boys had not been out of the country, much less in a revolution. I wasn't worried about it because I'd been to a lot. But we lost a few actors because their parents didn't want them to go. They were scared."
"We replaced them because I've already cast the film more than once so we had a long list of young people from different cities in mind. So we replaced them, thank God. But the key guys stayed in and they grew – Tom Berenger, Willem Dafoe and Charlie Sheen. They were the moral leaders."
"Over the course of the two weeks of training, they really buttoned up. They loved it. In fact, they had a reunion not too long ago in Florida. Most of them came together again to celebrate that experience."
The cast included Forest Whitaker (who once told me he stayed with students in Sampaloc as the Revolution raged) and Kevin Dillon.
The uprising to throw out Ferdinand and Imelda Marcos as Oliver prepped to film Platoon came at a tough time. He wrote in his memoir, "Salvador, which I was promoting in New York to open in March 7 (1986), was not going at all the way I'd hoped, and now Platoon seemed to be falling apart again – two films so dear to me dying at the same time. It was as if the Fates were mocking my hopes with this crashing catastrophe."
"By February 22, with mass media in the US calling for Marcos to leave, President Regan was quietly shifting US support away from him. And on February 24, Marcos finally abandoned ship with some $15 in jewels, gold, and cash to a secure base in Hawaii, never to return. It was later learned that after years of corruption, billions of dollars were missing from the Philippine treasury."
The outspoken director said in our interview, "He (Ferdinand Marcos) stole a lot of money, we know that… apparently anywhere north of $10 billion was missing…. He was a pretty good thief."
Jun Juban, the Philippine coordinator of Platoon who is mentioned several times by Oliver in his book, told me by email: "It was a very tough shoot, made even more complicated when it was being done right in the middle of the EDSA Revolution. We had to delay the start of filming for about a week. Luckily, after Marcos left, I was able to talk to General Fidel Ramos. He allowed us to proceed with the filming in spite of the fact that my DND (Department of National Defense) contract and approval was with the past regime."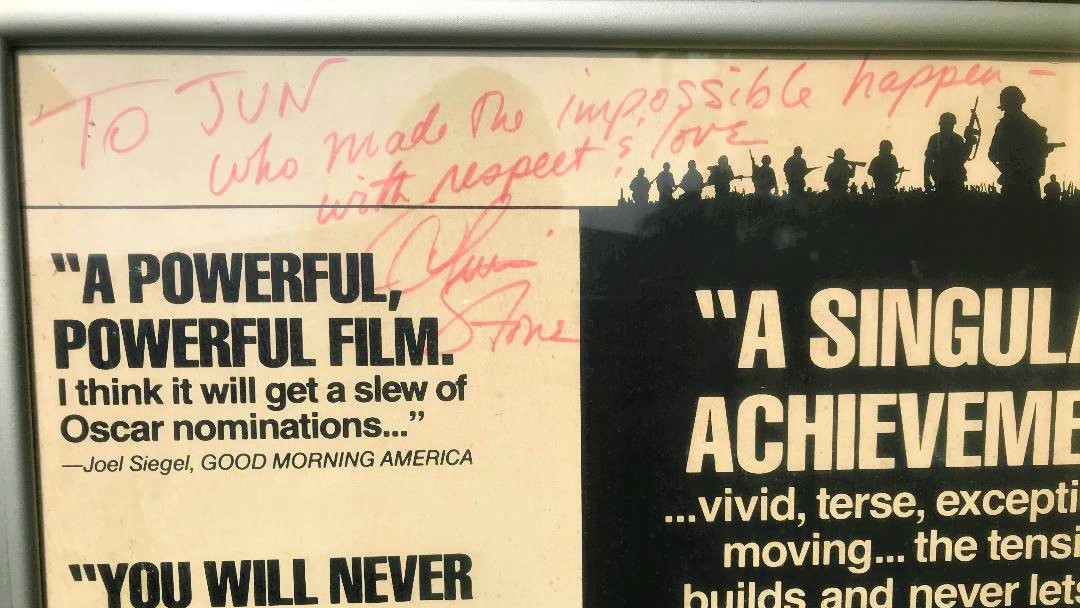 "I can only say that if Ramos did not say yes, Platoon would have never been made and Oliver would not have been Oliver," added Jun, the go-to man for foreign productions in the Philippines, with credits that include The Bourne Legacy.
"Much of my time during Platoon was making sure we had the military support for equipment since it was extra difficult because of the change in government. In spite of all the obstacles, we finished on time and on budget."
Oliver, now 73, ends his book on Platoon's triumphant Oscars night, with his memory of kissing his "dream girl" Elizabeth Taylor, who was the best director presenter, and Dustin Hoffman announcing the best picture.
"Even members of our team in the Philippines were calling in," he wrote.
With more chapters added to Oliver's life since that evening, I predict a sequel to his memoir.
---
As I wrote in my first column for Rappler, Jon Jon Briones is stunning in his major role as Dr. Richard Hanover, the head of a psychiatric hospital, in Ryan Murphy's Ratched. The actors' co-stars agree.
Sarah Paulson, who plays Nurse Ratched in Netflix's origin story of the nurse from hell in the classic film, One Flew Over the Cuckoo's Nest: "The character that Jon Jon plays is very complicated. He's a wonderful dancer and singer so he has this energy.
"Some of the stuff we were doing is very dark. Jon Jon had to do a lot of intense stuff. All that stuff he does with Sharon's (character's) son…that whole scene is just so crazy. I didn't get to be a part of that, which was unfortunate."
Sarah's cherished scene with Jon Jon: "Maybe the scene in the first episode when I go see him, Doctor Hanover, for the first time. I'm trying to slither my way into a position there (in the psychiatric hospital). He's not receiving me well, but there's something there that he is sparking to, and vice versa for me. It was really an opportunity for us to go toe-to-toe."
"I just find him to be incredibly inspiring. He has the most infectious energy of joy. We would finish every day of shooting and I would be getting my wig off. And he'd be sitting there, drinking a martini. I would be like, 'Where did you get that?' He would be like, 'I made it because I had a hard day and I am going to reward myself with this cocktail.'"
"I am like, 'I am not doing it right. I am not doing anything like that at the end of the day! I have to start having a martini in the trailer while the wig is coming off. Wow, you just changed my whole life. Not only are you a genius but you are teaching me how to live my life right.' So I can't say enough about him. I love him so much."
Judy Davis, who plays Betsy Bucket, also a nurse in the asylum: "I decided with my backstory that Betsy really came to California because she wanted to be in movies, in musicals, but she ended up being a psychiatric nurse. So there's this frustration in her and also, she's madly in love with Jon Jon's character. So the scene where they danced was like every dream she ever had come true."
"And there was only one problem with her. She's not a good dancer. She's about as good a dancer as I am, which is not good. Whereas Jon Jon is an amazing dancer. He's got the most incredible body and he's fit, something also I am not (laughs)."
"So the dance scene became one of Betsy Bucket getting exhausted and increasingly hysterical (laughs)."
Sharon Stone, whose wealthy widow character's son is a patient of Jon Jon's Dr. Hanover: "It's always great to encounter someone (Jon Jon) that you haven't worked with who's such an exceptional talent. Ryan is such a master of bringing a diverse kind of talent together. It's just wonderful, so exciting." – Rappler.com

From article:
https://www.rappler.com/life-and-style/literature/oliver-stone-memoir-chasing-the-light?fbclid=IwAR3Uyf2vfzw5rGh5owd4SAZXva58SHvIfrKoj7WzKf5RVLW09F8qDmDJSoo